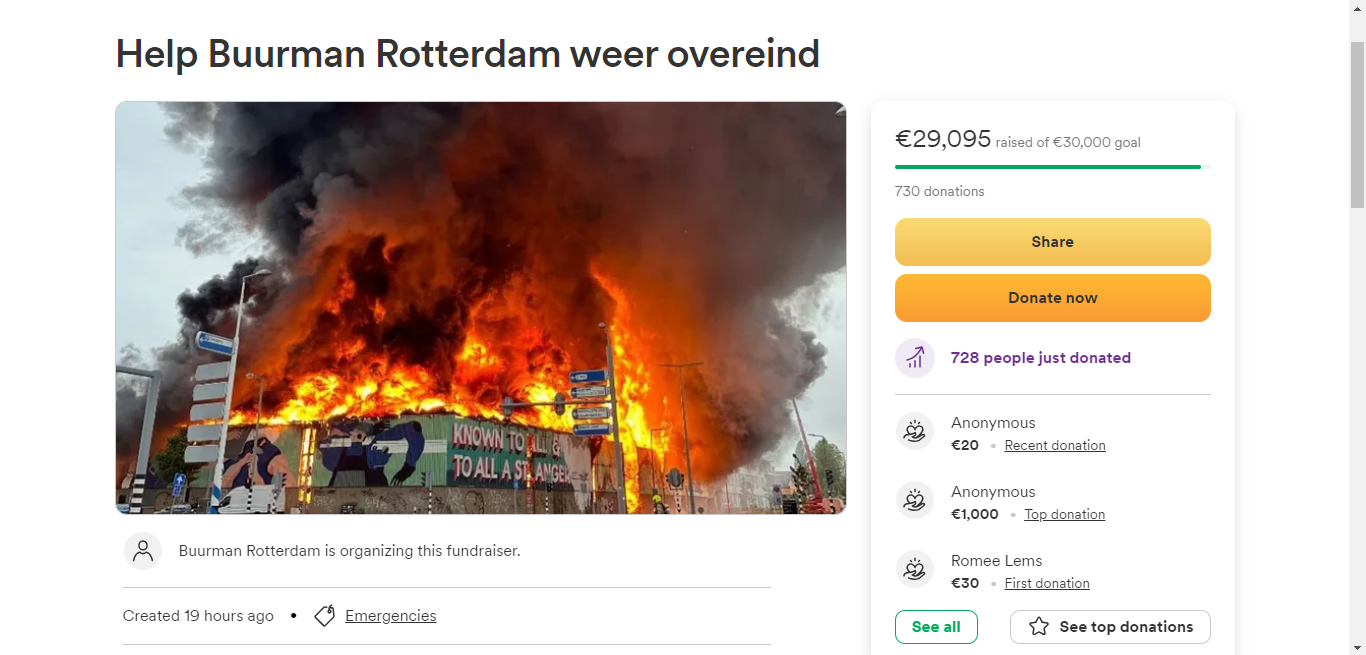 GOFUNDME CAMPAIGN PROMOTION
Project Url:
https://www.gofundme.com/f/help-buurman-rotterdam-weer-overeind
Client:
Rukky Digital
Amplify Impact: GoFundMe Campaign Promotion Project
Project Description:
Welcome to the Amplify Impact project, dedicated to helping individuals and organizations maximize the reach and success of their GoFundMe campaigns. We are excited to present a comprehensive project that focuses on promoting and supporting GoFundMe campaigns to generate the necessary funds for meaningful causes.
Overview:
GoFundMe has revolutionized the way people support causes they care about. However, in a crowded online space, it can be challenging for campaigns to stand out and reach their fundraising goals. The Amplify Impact project aims to provide valuable guidance, strategies, and resources to help campaigners effectively promote their GoFundMe campaigns and create a greater impact.
Project Objectives:
Education and Resources: We will create a comprehensive guide that covers essential aspects of GoFundMe campaign promotion, including crafting compelling campaign stories, setting achievable goals, and leveraging social proof. Additionally, we will provide downloadable templates, checklists, and case studies to assist campaigners in their promotional efforts.
Strategic Planning: We will work closely with campaigners to develop customized promotional strategies tailored to their specific campaign objectives. This includes identifying target audiences, selecting the most effective communication channels, and creating a timeline for campaign promotion activities.
Content Creation: We will assist campaigners in creating engaging and persuasive campaign content, including impactful campaign descriptions, compelling visuals, and emotionally resonant storytelling. Our team of content creators will collaborate with campaigners to ensure their message is effectively communicated to potential donors.
Digital Marketing: We will explore various digital marketing channels and techniques to maximize campaign visibility and reach. This includes social media advertising, search engine optimization (SEO), email marketing, influencer partnerships, and leveraging online communities.
Donor Engagement Strategies: We will provide guidance on cultivating and nurturing relationships with campaign donors. This includes creating personalized thank-you messages, sharing regular campaign updates, and fostering a sense of community and gratitude among supporters.
Post-Campaign Support: Our project will extend support beyond the campaign's completion by offering guidance on donor retention strategies and ensuring proper accountability in the allocation and utilization of funds raised.
Expected Impact:
By supporting the Amplify Impact project, campaigners will gain access to a comprehensive toolkit that empowers them to effectively promote their GoFundMe campaigns. We aim to help campaigners increase their campaign's visibility, attract more donors, and ultimately achieve their fundraising goals.
Your contribution will not only benefit individual campaigners but also support a wide range of causes, including medical expenses, education, disaster relief, community initiatives, and more. Together, we can create a greater impact and make a difference in the lives of those in need.
Budget and Timeline:
The funds raised through this project will be allocated toward content creation, digital marketing campaigns, graphic design, and project management. Our estimated timeline for project completion and delivery of resources is six months from the project's funding date.
Join us in amplifying the impact of GoFundMe campaigns, empowering individuals and organizations to make a real difference in the world. Back our project today and be a part of the movement toward supporting causes that matter most!
Tags:
GOFUNDME CAMPAIGN PROMOTION
---
5.0
Wow! The delivery was beyond my expectations. I got massive ...
Wow! The delivery was beyond my expectations. My Patreon campaign received a lot of attention. Highly recommend. Thanks for a great job.