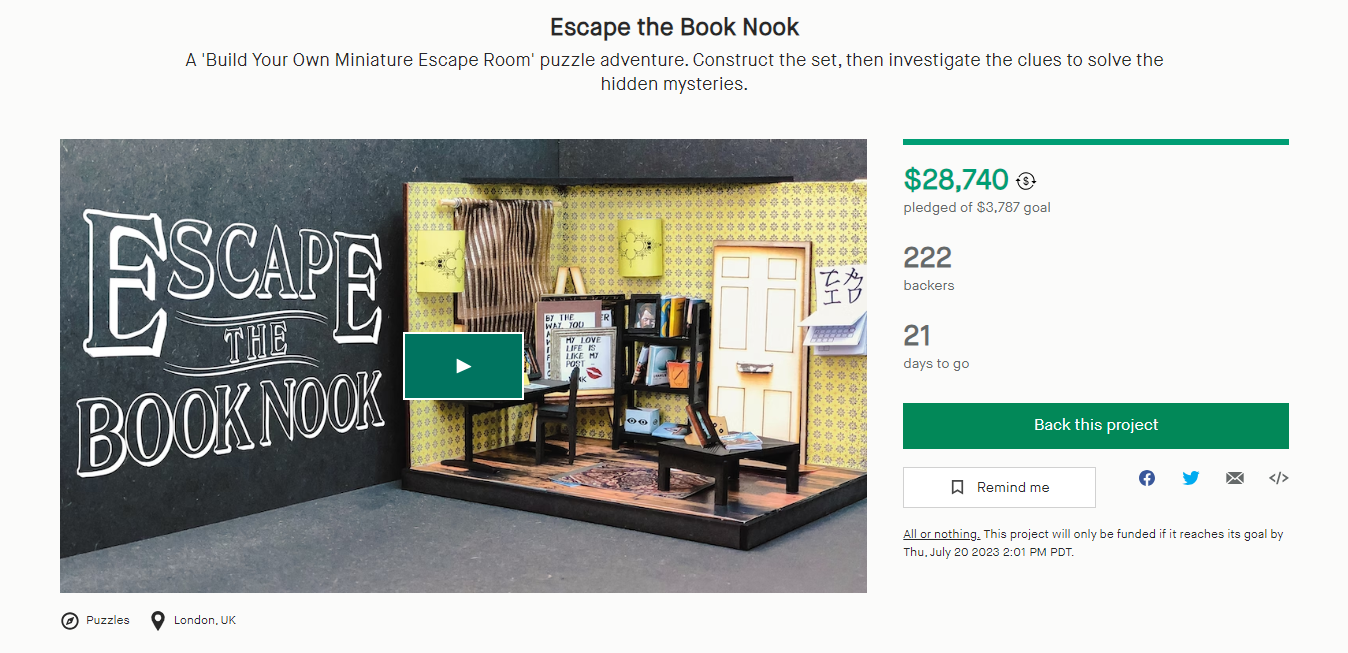 KICKSTARTER CAMPAIGN CREATION AND PROMOTION
Project Url:
https://www.kickstarter.com/projects/architecto/nologic-puzzle-box
Client:
Lawal Zakariyah
Empowering Creativity: Kickstarter Campaign Creation and Promotion
Project Description:
Welcome to the world of Kickstarter, where dreams become reality! We are excited to present our project, "Empowering Creativity," a comprehensive guide to help you successfully create and promote your own Kickstarter campaign.
Overview:
Kickstarter is a powerful platform that enables individuals, innovators, and creators to bring their ideas to life through crowdfunding. However, creating and promoting a successful campaign can be a challenging task without the right guidance. This project aims to provide aspiring campaigners with valuable insights, strategies, and practical tips to maximize their chances of achieving funding success.
Project Objectives:
Education: We will create an in-depth guide that covers every aspect of Kickstarter campaign creation, from setting goals and designing compelling campaign pages to crafting persuasive rewards and telling a compelling story.
Best Practices: We will curate a collection of best practices based on successful Kickstarter campaigns, analyzing their strategies and techniques to help you understand what works and what doesn't.
Promotion Strategies: We will explore effective marketing and promotional techniques to boost campaign visibility, reach a wider audience, and engage potential backers. This includes utilizing social media platforms, leveraging email marketing, and collaborating with influencers.
Multimedia Content: We will provide engaging multimedia resources, including video tutorials, templates, and examples, to assist campaigners in creating visually appealing and persuasive campaign materials.
Community Building: We will emphasize the importance of building and nurturing a strong community around your campaign. This involves fostering meaningful connections with backers, encouraging engagement, and providing regular updates.
Post-Campaign Support: Our project will also address post-campaign activities, such as fulfilling rewards, maintaining communication with backers, and leveraging the momentum gained to further develop and expand your project.
Expected Impact:
By supporting our project, you will gain access to a comprehensive toolkit that empowers you to navigate the complexities of Kickstarter campaign creation and promotion. We aim to equip you with the knowledge and skills needed to effectively communicate your vision, attract backers, and achieve your funding goals.
Your contribution will not only benefit individuals looking to launch their own campaigns but also foster a vibrant Kickstarter community where unique and innovative ideas can flourish.
Budget and Timeline:
The funds raised through this Kickstarter campaign will be allocated toward content creation, graphic design, multimedia production, and project promotion. Our estimated timeline for the completion and delivery of the comprehensive guide is six months from the project's funding date.
Join us in bringing dreams to life, empowering creators, and reshaping the landscape of crowdfunding on Kickstarter. Back our project today and be a part of the exciting journey toward turning ideas into reality!
Note: The above project description is a sample text and does not represent an actual Kickstarter campaign.
Tags:
KICKSTARTER CAMPAIGN
CROWDFUNDING
---
5.0
I am very satisfied with his work and highly recommended
I am very satisfied with his work, he worked fast and efficiently. The result is up to my expectations. Amazing work