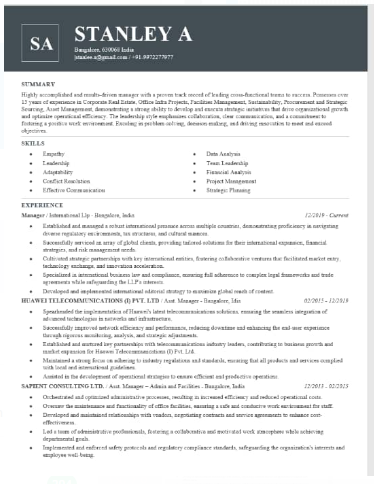 Resume Revitalization: Crafting Your Path to Success
Client:
john smith
Introducing Alice James, a seasoned resume writer dedicated to enhancing your career prospects. Alice specializes in tailoring your resume to your unique goals and experiences, ensuring that it effectively showcases your skills and achievements to potential employers. Whether you're an entry-level job seeker, a career changer, or a high-level executive, Alice's expertise spans various industries, guaranteeing a resume that stands out.
Alice's approach emphasizes detail, impactful language, and quantifiable achievements to make your resume exceptional. She's committed to delivering your polished resume promptly and is open to feedback to ensure your complete satisfaction.
Choose Alice James Resume Services to take the first step towards unlocking new career opportunities and realizing your professional potential. With Alice's expertise and dedication, you're on the path to career success. Don't miss the chance to collaborate with Alice James and elevate your resume to new heights.
Tags:
ATS compliant resume
cover letter writing
linkedin profile optimization
---
5.0
I will wholeheartedly recommend your services to others seeking professional resume writing. Thank you for your dedication and expertise. Best regards,
Dear Alice james I want to express my deep appreciation for the outstanding resume writing services you've provided. Your ability to capture my career goals and tailor my resume accordingly has been t

...